[H2P] Holy -- Show off your UI! (Legion Edition)
by Twintop » 22 Jul 2016, 16:52
@TwintopTahoe
•
Twintop @ Illidan-US
Simulate Your Character on Beotorch!
•
https://www.beotorch.com/
Assistant Administrator
Posts: 2405
Joined: 07 Feb 2011, 12:50
Location: Updating Beotorch
---
by Elvenbane » 25 Jul 2016, 13:56
---
by Ablution » 27 Jul 2016, 18:52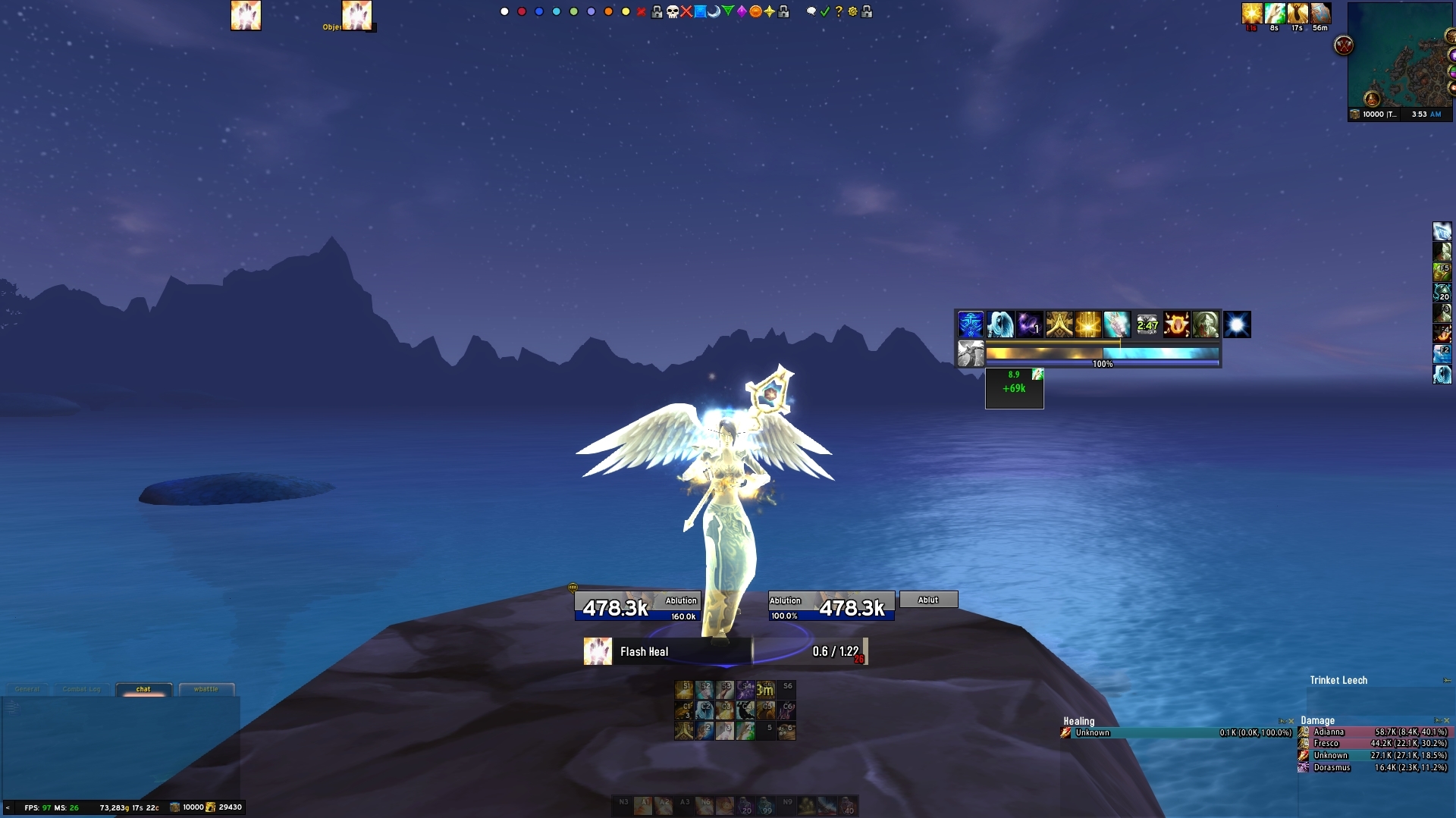 ---
by Jaedaddy » 07 Sep 2016, 19:31
I fixed a few things since the video (i.e. the portrait alpha is now at 35% instead of 0% as the target/bosses/adds die).

---
by afterawer » 13 Oct 2016, 13:27
---
by zooeys » 30 Nov 2016, 17:09
I'd love some feedback on this, actually. I'm not totally happy with the target's target/target's target's target placement and what it does to the auras and castbar, and I haven't yet figured out how to arrange the auras and buff/debuffs in a way that looks right yet. The WAs are cannibalized from Ablutions and Tal's builds to suit what I needed, so big h/t to them.
---
by Awerna » 20 Dec 2016, 15:06
Hi zooeys, I really like your setup. Would you mind posting a list of the addons you're using?
---
by zooeys » 17 Jan 2017, 03:36
Awerna wrote:Hi zooeys, I really like your setup. Would you mind posting a list of the addons you're using?
I've actually updated it again a bit. I'm experimenting with removing buttons from my screen entirely and replacing what I need to monitor with weakauras. There's no data in this pick but I also removed the combat log from the right and replaced it with exorsus raid tools cooldown monitor to track all the big healer cooldowns in our raids. Skada for the damage/healing meters.
The base is just elvui with a lot of pretty basic weakaura cooldown monitors. I go back and forth on the aura bars. I like the progress tracking but in raids I end up with so many buffs it begins to take up more space than I like.
UPDATE: New screenshot with some tweaks, but same overall idea.
Last edited by
zooeys
on 27 Feb 2017, 01:32, edited 1 time in total.
---
by Pharmacist » 08 Feb 2017, 12:32
Please forgive the Weak Aura UI, it's my first attempt at creating one from scratch and basically taught myself how to by playing around with all the different settings because if I actually tried to read a guide or something, I'd just forget what I read as soon as I was finished reading it so this way just works best for me as impractical as it may seem ;)
updated-ok I viewed a few video tutorials(god bless youtube) and this new hud is the result.
---
by Elsineth » 24 Mar 2017, 19:55
Got a lot of praise from my guild when I made these new changes, really simple addons to make this.
---
---
Users browsing this forum: No registered users and 1 guest
Support Our Community
Video Content
Be Social
Tweets by HowToPriest
All times are UTC - 8 hours [ DST ]