Ablutions Weakauras for Disc and Holy - legion
by Scoops » 26 Jul 2016, 18:55
Hey I just wanted to thank you for this. Absolutely fantastic!
---
by Ablution » 27 Jul 2016, 02:14
hey scoops :)
you are so very welcome :) glad you like them:)
---
by Scoops » 27 Jul 2016, 17:57
Hey,

Is there a way to scale the whole group down rather than going in and making each aura smaller individually?
---
by Ablution » 27 Jul 2016, 18:45
hey Scoops :)
nah sadly you have to scale each one of them;(
---
by Ablution » 29 Jul 2016, 04:13
Some of you guys have asked for a vertical version of my wa, so here it is, it is only displayed in combat, but you can change that if that what you pref :)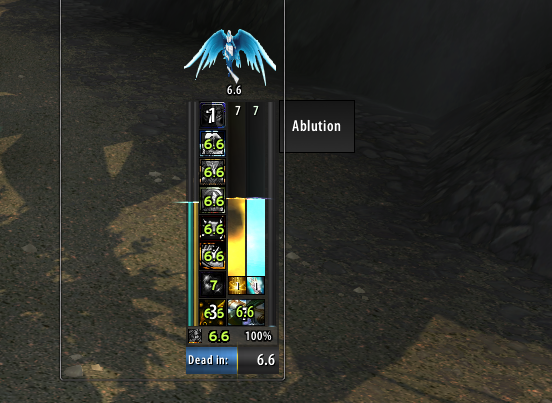 https://wago.io/Ny214XV_b
Icons
Guardian Spirit
Purify
Prayer of Mending
Holy Word: Sanctify
Holy Word: Serenity
Aporheosis / Circle of Healing / Benediction(pasive icon)
Devine Hymn
Symbol og hope / Light of the Naaru(pasive icon) / Guardian Angel (pasive icon)
Light of T'uure (stacks)
Timer for Divinity (icon gray when not active) / D-star / Halo
Angelic Feather / Body and Mind / Desperate Prayer
Left side - Timer bar:
Symbol of Hope / Innervate on you - Timerbar (Turquoise)
Aporheosis - Timerbar (Yellow)
Right side - Timer bar:
Holy Word: Sanctify - timerbar (Yellow)
Holy Word: Serenity - timerbar (Blue)
Manabar (Blue)
Bottom left:
Displays only your race traits
Arcane torrent (Blood elf)
Gift of the Naaru (Draenel)
Every Man for Himself (Human)
Stoneform (Dwarf)
Berserking (Troll)
Quaking Palm (Pandaren)
War Stomp (Tauren)
Will of the Forsaken (Undead)
Escape Artist (Gnome)
Rocket Jump (Goblin)
Shadowmend (Night elf)
Darkflight (worgen)
Bottom right:
Mana %
Bottom:
Spirit of Redemption - up time before dead
---
by Shenaya79 » 29 Jul 2016, 04:29
Can you do a String for Shadows? Looks great :-)
Walk into the Shadow...
---
by Ablution » 29 Jul 2016, 13:33
dont realy play shadow, i would say twintops shadow is very good. I use them, when my guild force me to play shadow :(
---
by Qvinna » 12 Aug 2016, 07:45
Hello! ;D Can you make one for mist monk to :)?
---
by Dione » 20 Aug 2016, 01:00
I'm using the disc one and it's awesome! <3
---
by Ablution » 21 Aug 2016, 08:01
Dione wrote:I'm using the disc one and it's awesome! <3
gald you like it Dione :)
---
---
Users browsing this forum: No registered users and 2 guests
Support Our Community
Video Content
Be Social
Tweets by HowToPriest
All times are UTC - 8 hours [ DST ]